Memorable & Exciting
Looking to hold a special event that is both memorable and exciting? VLK can custom tailor 100,000 sq. ft. of space to your needs.
Whether an Anniversary, Retirement Party, Birthday Party, Family Reunion, Bachelor or Bachelorette Party, Bar/Bat Mitzvah Party, Fundraising Event, Wine / Beer Tasting, Car Club, or just a private party, Victory Lane Indoor Karting is the perfect venue for your event!
Imagine: your guests experience the thrill of real racing. They're dazzled by your customized décor and cuisine developed to meet your specifications, from finger food to formal fine dining. They can explore VLK or engage in a game of corn hole and foosball. Enjoy a relaxing game of bowling in Gasoline Alley or bring out your inner child in any one of our 25 Arcade Games. There's no end to the entertainment at VLK.
Whatever you want, just ask. VLK will provide detailed party arrangements with the attention to detail and a style you won't find anywhere else. It's guaranteed to make your event an unforgettable experience.
(No Outside Food allowed inside VLK)
Car Clubs
Victory Lane Karting is the perfect location and facility to host your car club, car show, or car auction. Our facility accommodates bringing in multiple vehicles for display and enjoyment. Customize our spacious lobby to 'Wow' your car enthusiast brethren.
Group Outings
Friends in town? Nothing to do this Saturday? Is it raining out? Let Victory Lane Karting entertain you and your friends for the day. Two tracks and many more fun activities will give you and your friends plenty to talk about at the water cooler this week. Call today and speak with one of our event coordinators to reserve a private event for you and your friends! For more information – 704.377.3278 or vlk1@victorylanekarting.com
Reunions
Having a family reunion, class reunion, or organization reunion? VLK can provide the place, the facilities, and exciting formats for bonding and reminiscing. We can make a small group of 8 or a large group of several hundred feel welcome and enthused. Photographers, videographers, catered meals, and racing! Nothing else like it.
KID'S BIRTHDAY PARTIES
Youth Birthday Party Package – $50/racer (minimum of 5 racers) [All drivers must be at least 48 inches tall to 14 years old.]
2 Races per participant. Youth Karts Only. (additional races $15/race, a $5 savings over regular pricing)
Your event planner will assign a space, within the facility, that will be available to your group for 2 hours.
Pizza (2 slices/person). Cake/cupcakes. 2 gallons ice water. 2 gallons lemonade or fruit punch. Kart tire autographed by party. Medals (1st, 2nd, and 3rd)
Event planner will be with you, to assist with every detail – from "hello" to "see you next year"
Parties can only be booked during the following times:
(7 days advance notice needed for all birthday parties, subject to availability)
Mon-Fri: 9am-5pm (Racing must be finished by 5pm)
Sat-Sun: 9am-1pm (Racing must be finished by 1pm)
(No Outside Food/Drink allowed inside the facility)
50% non-refundable deposit is required to book a party.
Racing will be completed as quickly as possible, however during normal business hours the racing will take place in rotation with walk-in racers and other parties, in the order of arrival. This may mean that the party will run over 2 hours and on rare occasions may exceed 4 hours. Please allow for this in your schedule.
Bar / Bat Mitzvah Parties
When your son or daughter reaches this important milestone, the age of accountability, and you want to celebrate with a unique party, look no further than Victory Lane Karting. We can provide all the fun, food, and entertainment. Saturday night parties after the Sabbath are not a problem even during late summer nights. Please call the VLK Sales staff to arrange everything for you.
Team building programs teach teams to communicate more effectively, perform under pressure and improve problem-solving and leadership skills. All of our programs are designed to maximize the existing skills that your team brings to the track, while developing skills they lack. Tie this all together with a carefully planned agenda and you have an event your colleagues will remember long after they've left the track. Racing by its very nature is full of adrenaline, excitement and requires a coordinated team effort in order to be successful. At VLK we focus on sound business principles that are vital to the success of every business.
Communication
Core Competency
Listening skills
Cooperation
Taking Action vs. paralysis of analysis
The 7 P's
Proper Prior Planning Prevents Painfully Poor Performance
Individual and team desire to succeed
Ethical Standards of fair play and performance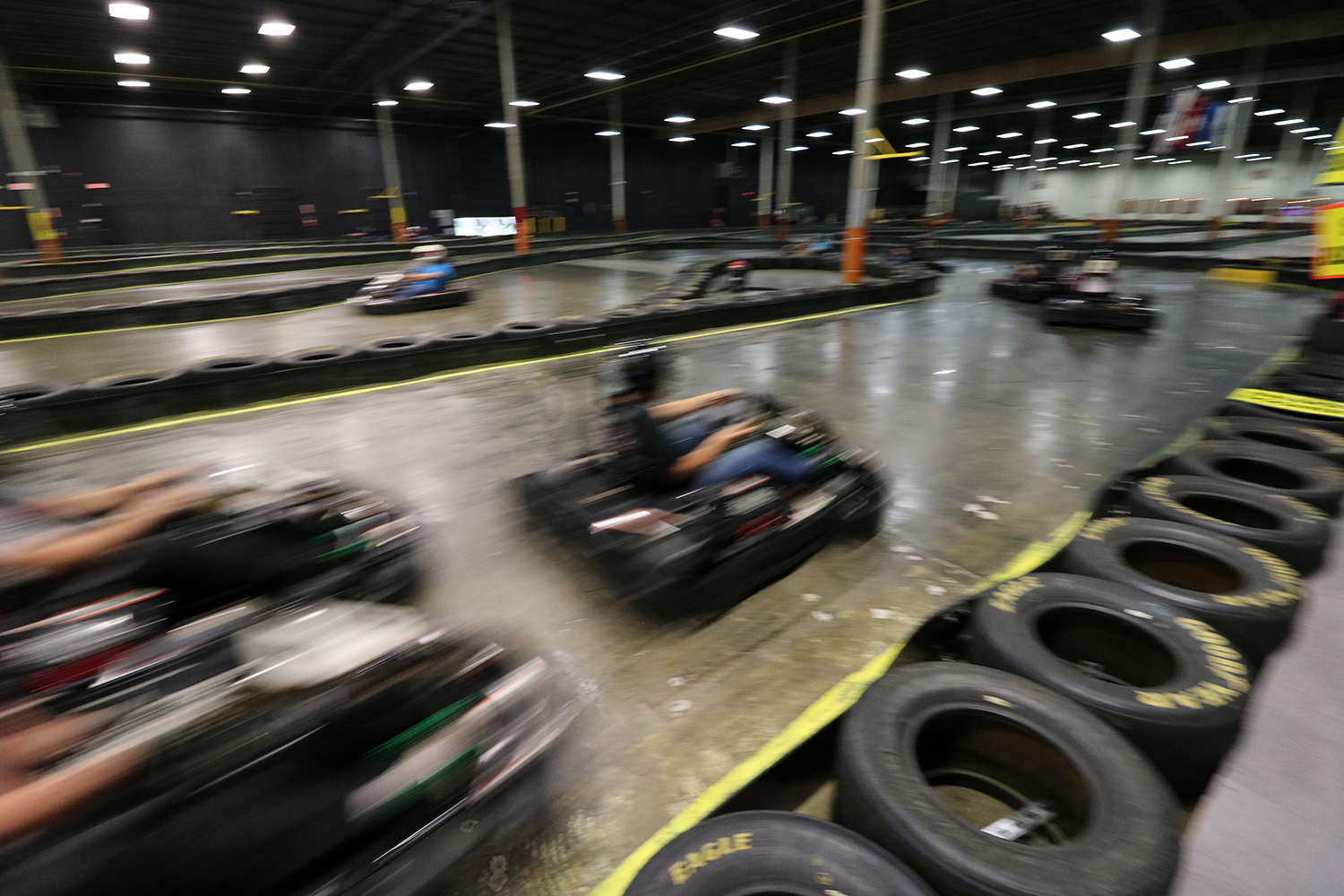 Speed, Adrenaline, Power, & Control
This is racing – and the seal of a successful business team. VLK works with you to build on these basics as your team members work together to excel on the race track and in your business. The basics of business never change. You must recruit, train, reward and celebrate to retain your best employees and you must find, reward and retain your best customers. Victory Lane Indoor Karting is your uniquely capable partner in Charlotte to help you reach those goals.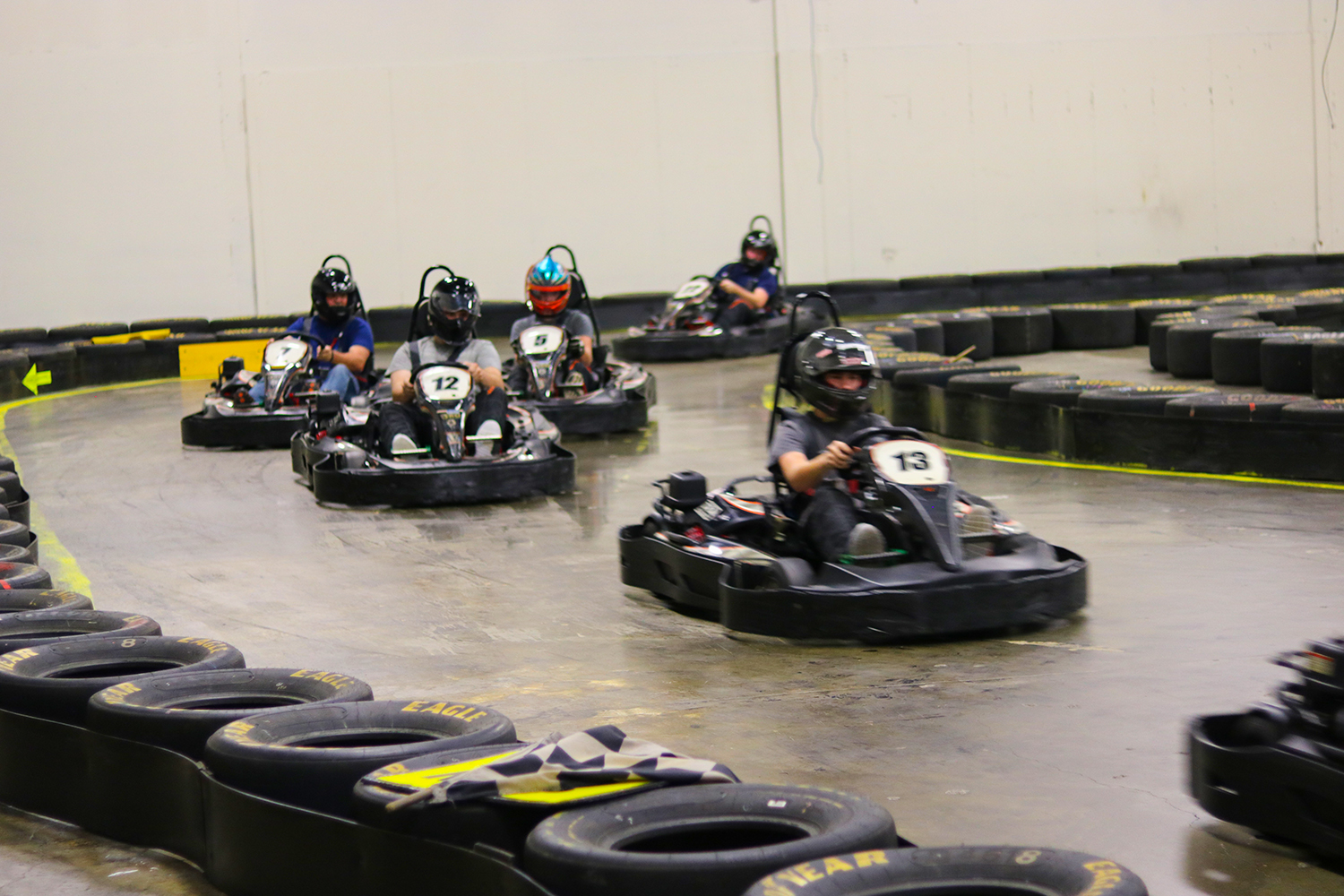 Special group rates over individual racing
Event planning assistance to ensure a succesful outing
Meeting spaces, large screen televisions, and games
The comfort of indoors (weather is never an issue)
The unique experience of racing in a fun and safe environment
Exclusive Facility Rental including both tracks, bowling
lanes, and Bar Area.
Exclusive 2 Tracks or Super Track Rental with conference
room.
Exclusive Single Track Rental with conference room
A 6-minute qualifying session determines the driver
teams. Each team drives one kart throughout the
race. Pit stops include a driver change with each
team member driving two 10-minute stretches for
their team. The team completing the most laps determines
the winner.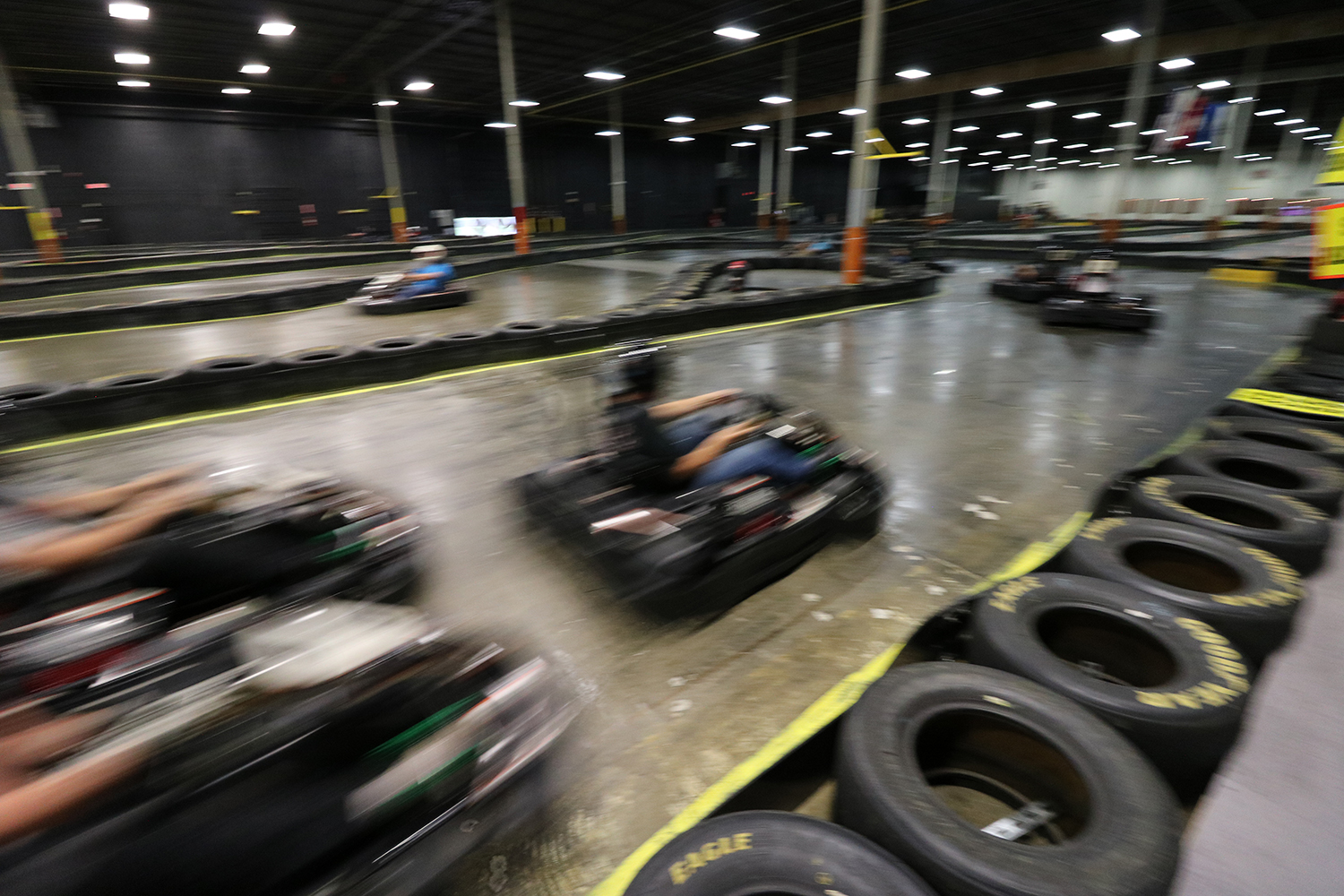 A 6-minute practice session, followed by an 8-minute
qualifying session determines the race position for
the final heat. All karts are lined up in grid formation
as drivers compete in a final 10-minute race to the
checkered flag.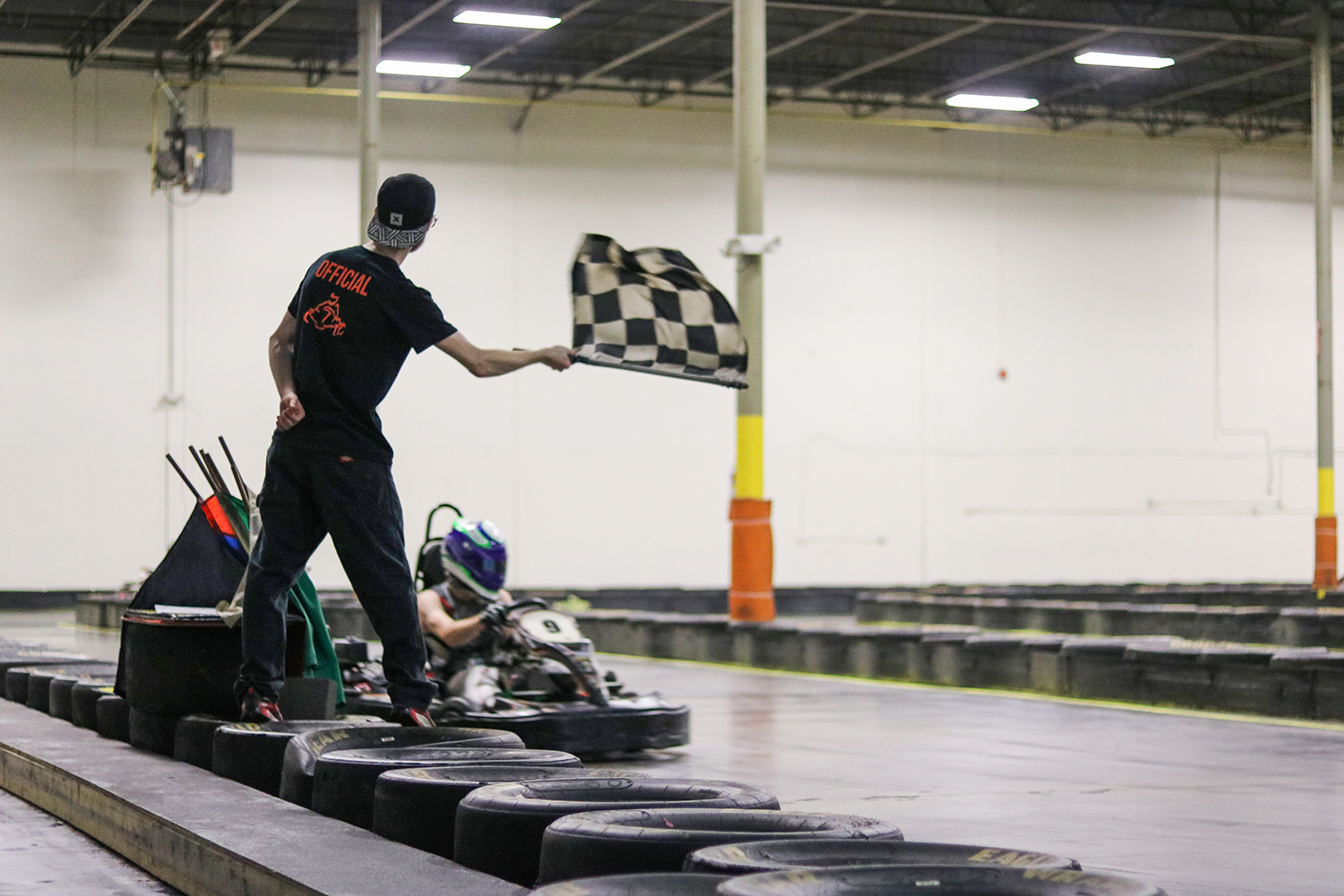 An 8-minute practice/qualifying session determines
the race position for the final heat. All karts are lined
up in grid formation as drivers compete in a final
10-minute race to the checkered flag.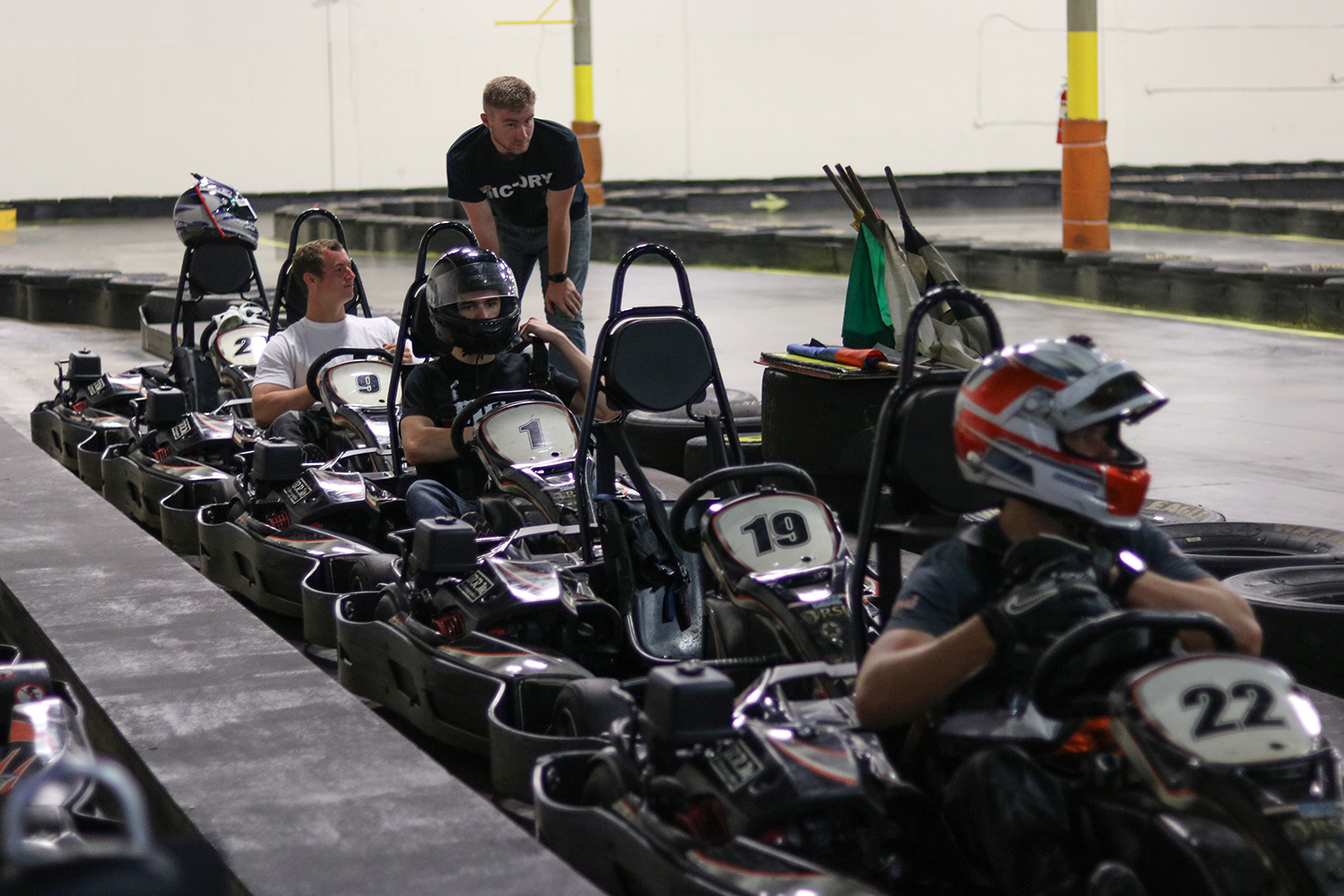 An 8 Minute Qualifying session determines the
driver order. Each driver competes in a 10 minute
individual race. That outcome determines the
2 Man teams that compete in a 20 minute team
race. Drivers change after 10 minutes. The team
completing the most laps determines the winner.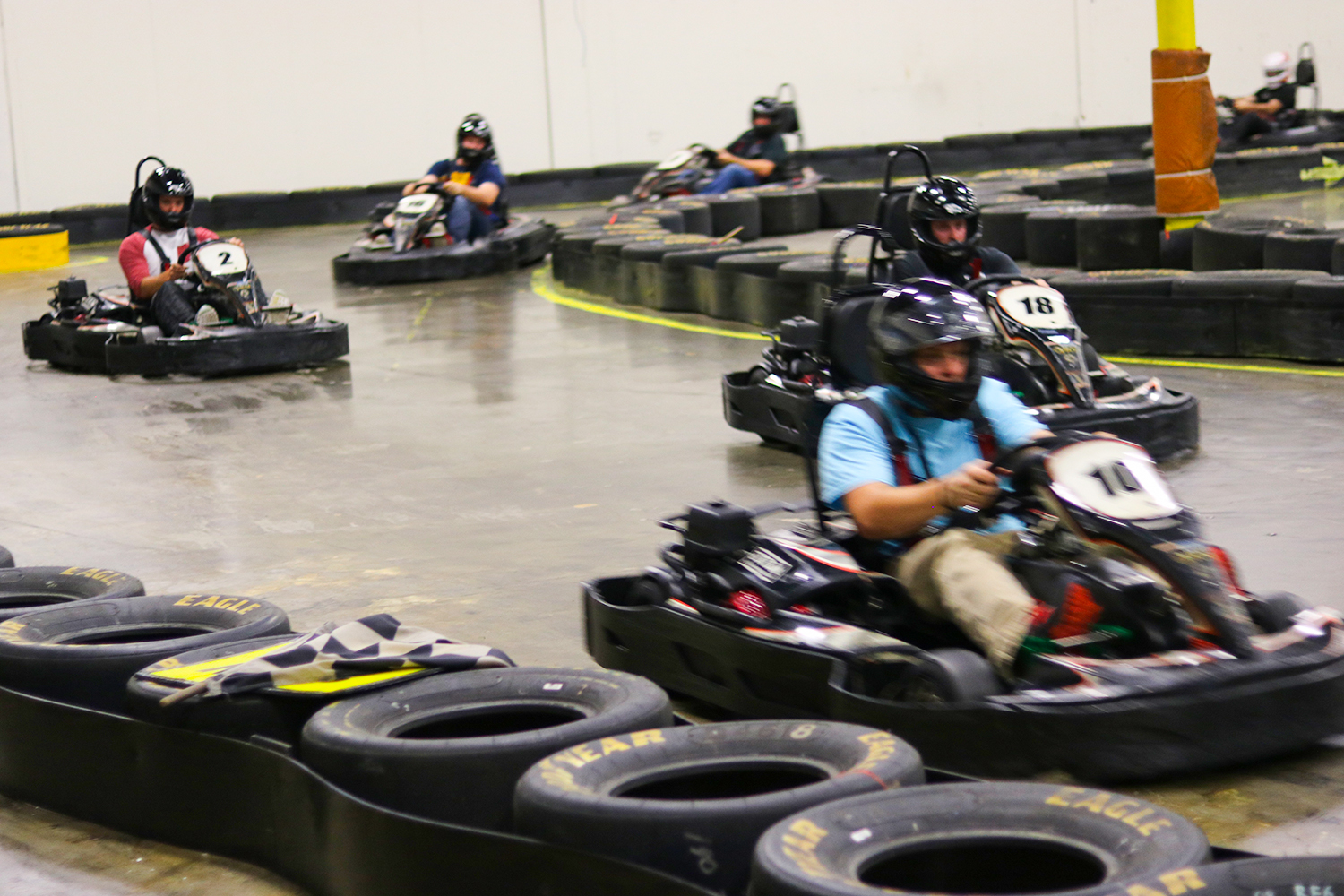 The super-charged version of our popular MINI PRIX
challenge. A 10-minute practice session, followed by
a 10-minute qualifying session determines the race
position for the final heat. All karts are lined up in
grid formation as drivers compete in a final 10-minute
race to the checkered flag.
NOT YOUR USUAL MEETING FACILITY!
In May 2000, VLK opened its doors and brought the excitement of indoor karting to Charlotte's business community. This is the perfect conference and entertainment venue for corporate events.
Our Super Prix Conference Room and VIP Conference Room each feature a 110" screen capable of handling 40 to 100 people. Our Convention Hall features a 200" screen with capability of holding X people. It is able to be split into two rooms, each with a 120" screen. All rooms have wireless internet and complete audio/visual equipment. 100,000 S.F. – The entire facility can be rented out for exclusive use, 24 hours a day, 7 days a week, 362 days a year. Price varies according to the length of time you require.
The on-site addition of Pit Road Bar & Grill allows us to offer a wide array of appetizing menu choices and beverage options.
Our event planners will work with you to create your event whether elaborate/formal or no fuss/casual. We will assist you in organizing the racing format to best fit your group's size, enthusiasm and racing abilities. We have hosted thousands of events and want your group to experience the VLK difference.
FREE WI-FI throughout our entire facility.
Corporate & Private Event center
Victory Lane Indoor Karting Center is the perfect place to plan your next corporate outing. Not only do we provide the most unique team building exercises, but we also have private meeting spaces to accommodate large and small groups and a wide variety of catering options.
4,000 sq. ft. banquet hall used for seminars, meetings, catered events, product launches, customer appreciation benefits, charitable benefits etc….
Events for up to 300 people
Multiple seating configurations
Horseshoe, classroom, and round seating formats
Banquet, Buffet, Theater, Presentation, Product Launch, etc…
Signage/ Branding
Catered Meals
Audio / Video Equipment
Three Large Projector Screens
With the ability to use the retractable wall to have two separate rooms; Suite 500 and Suite 600.
Our newest addition to Victory Lane Karting
The Banquet Hall is our brand new 4000 sq ft facility, complete with a private bar, 4k projector with a 20ft by 20 ft screen, private entrance, two 120 inch projectors, and 5 flat screen tvs. This hall is perfect for large corporate banquets, wedding receptions, family reunions, and any other large events!
Pit Road Bar & Grill Catering options may include the following items, but are not limited to:
Drinks (Alcoholic and Non-Alcoholic)
Entrees:
BBQ, Hamburgers, Herbed Baked Chicken, Brisket, Carving Ham, Bourbon Pecan Chicken, Prime Rib, Filet of Beef, or Asiago Chicken
Vegetarian and Vegan Options are available
Sides:
Macaroni and Cheese, Green Beans, Baked Beans, House Salad, Twice Baked Potato, Chipotle Macaroni and Cheese, Green Bean Casserole, Rice Pilaf, Lemon Scented Asparagus, Broccolini & Heirloom Grape Tomatoes, Roasted Seasonal Squash tossed in Brown Butter or White Wine Wilted Spinach
Desserts:
Cookies, Brownies, Apple Cobbler, Peach Cobbler, Cheesecake, Chocolate Covered Strawberries or Crème Brûlée
Perfect for Car Exhibits, radio and TV Shoots, general entertainment, event sign in
Events up to 150 people
Signage / Branding
Exhibit Space
Restrooms
Merchandising
Gaming Tournaments
Overflow from Lemans Entertainment Venue
Arcade located inside Pit Road Bar & Grill
Private 1200 sq. ft stand alone space for executive
meetings, private parties, movie screenings, brainstorming sessions, etc.
Events up to 40 people
Private dining and restrooms
Signage/Branding